Welcome to the Slot 32 online shop
We are here to help you. Nearly all our products are listed.

You may prefer to telephone for a chat or discussion about what you want.

We know prices have increased dramatically and we will do our best to offer you the best price.

'With over 4000 products sometimes our stock records are not 100% accurate, and we apologise if we cannot obtain what you want.'

Customer comments
The two boxes arrive wednesday just before christmass, so it was perfect. Thanks for fine service, and great guidance along the road. Happy new year.
Just a small note to tell you that I have received the cars perfectly today, thanks.

pit lane arrived this morning 7.55 a.m. Many thanks for the extra trip to the post office and the special delivery!!! I said to Joe it won't be here before the weekend and now he'll have a package to open after school. He'll be over the moon. Thanks again for the brilliant service!

Thanks for fast delivery of the car. I will certainly use your service again. Best Regards Andy
Got it yesterday - brilliant service - thanks, Bill
I'm sure that in future I will be calling you to buy more cars from your nice website about slot cars. - Thanks Bob

Thanks, track pieces received and installed. My circuit is now complete and is great. Thanks for you help. Rob

Hello Nic, I received the black box. Thank you very much. I trust in you. you're honest and professional. Thank you! Jérôme.

I'm sure that in future I will be calling you to buy more cars from your nice website about slot cars. - Cheers David

Thank you for your help and advice re the type of slot track and slot cars
suitable for me and my son when he's older. With reference my interest in
slot racing cars I collect scalextric and fly Ford GT and Ford GT 40- Vincent

I would like to thank You for the service that You gave to me, and Lofty, when purchasing the above cars-Roy

Thanks you for the excellent customer service. I received the first package today, very
quick really. Jim Troye-Missouri

Hi,
I purchased some cars & spares from you last week including the NSR Mosler. I ran it at Phoenix tonight and it's awesome!!! It's everything you said it is. I'd like to thank you for your advice & service and have recommended you to others. regards Steve

I just want to let you know, how a wonderfull service do you have, only one
week from U.K. to Mexico City area. Congratulations!!! Victor Castillo.

order friday received sat morning,first class service once again.very good value for money have recomended to fellow slot racers-regards mick taylor

Just a quick e-mail to say what a pleasure it was to be ale to put a face to the website today. Really pleased with the Ninco Digital Tower made our race night a lot easier and more fun. Thanks for the great service and its nice to deal with someone who really knows their stuff. Wayne- May 2007
Hi received hat today. Very pleased, my son will love. Thanks for the Ninco stickers to, this was a nice little surprise. My son is really into his stickers too. Kind regards Nicky
Thank you very much for the two Indy cars! I recieve my cars yesterday, Thank you. Tyrone-USA
Scalextric Hire
Giant Scalextric hire for private and corporate events. We have both analogue and digital allowing lane changing. Our tracks can be up to 16 cars.
Hire a small track from £550 for use at your party. We can custom build a track to your requirements. Our standard giant scalextric racing tracks are 4 and 6 lane which are 18x10foot ( 6m x 3.5m). We also have ho scale afx racing track and cars and therefore you get a lot more track in the same space as the large scalextric 1/32 size.
call us for more details.
Giant scalextric track for hire. We run race meetings with standard slot car track or digital. Or we can provide a huge scalextric track just for fun. Call us for details
best scalextrix racing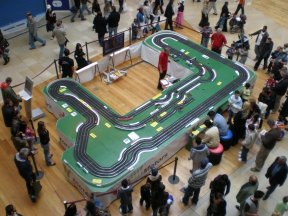 Scalextric and slot cars for promotions
We supplied and organised a slot car ( Scalextric ) tournement at The Bullring, Birmingham, Meadowhall , Sheffield and Manchester for a Major International Retailer
for more information click here
Each day saw 100 spectators on average watching the racing at any one time. We also recorded the names and address of 600 people per shopping centre. A constant race commentary was provided highlighting the company and the prizes on offer.

Contact Us Page
We are only 10 minutes from M25 and 30 minutes from Euston main line. Visitors by appointment only. Telephone 020-8421-5922.


SCALEXTRIC PARTY TRACK HIRE
Giant scalextric track for hire. We run race meetings with standard slot car track or digital. Or we can provide a huge scalextric track just for fun. Call us for details.


Slot Car Racing
Patented way back in 1930! Not on sale till 1950's market leader was Scalextric.
It started in England, and was brought to America and other countries in the world by returning servicemen. In 1948, the war was over and leisure time was in abundance. Modeling became the perfect "at home" past time and a great many modelers wanted a system where model cars would motor around layouts in conjunction with trains and boats to produce a complete model layout. An article by Geoffrey Denson in the English magazine "Model Cars" is credited with starting the movement in Great Britain. His article was about a model car track system that used a raised "railroad" like rail to control the vehicle.

These were called Rail Cars and this system became the most popular in Great Britain up through the mid 50's. Alban Adams was a popular track builder in England and is credited with building the first recessed slot track. Reportedly because he was tired of his car "tripping" over the rail in the turns. Still, rail racing would be the track of choice in England well into the '60's.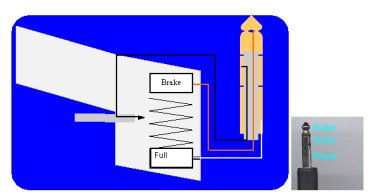 controller wiring jack plug
Scalextric Sport and Ninco resistance controllers are connected to the track with a jack plug. These are connected as shown . The cable end contact is connected to the power band (L on a BSCRA style plug). The center contact is connected to the the controller wiper (N on a BSCRA style plug). The end contact is connected to the the controller brake band (E on a BSCRA style plug).
if you need more help call us.